Is a burrito a sandwich? Judge says no. I have to agree on this one, there's no way that a Burrito is a Sanga! Can you just imagine putting butter on a burrito and filling it with chips?? No, no, no!
More sanga stuff 'cos it's Monday: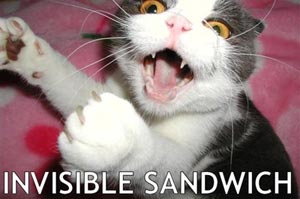 . Yum – this kitty shows you how big his Sandwich should be!
Did you know that there is such a thing as a Ham Sandwich Theorem? Here it is! Yum!
Did you know that you can re-use your Sanga Bag as a waterproof phone protector? Here's how!
There was very nearly a crazy pile-up of Sarnies down in Houston on Friday. I've never been there, but I am sure it's a great city as they care about the welfare of Sangas. Phew, Many of Sangas were able to be rescued Note: the accompanying video to this story shows the great efforts the folks down there go to rescue the Sangas. Good work lads!! We salute you! Sangas all around!