OK, another Blue Nose was kind enough to send me an MPEG of the craziest own goal I've seen. And it gets extra points since it comes from the Villa when they're playing Birmingham! As mentioned in the previous article, Blues were playing the Vile for the first time in 16 years. It's second half, the atmosphere is tense, with Blues leading 1-0.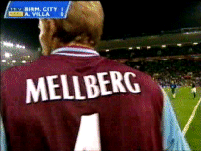 The fun begins with a simple enough throw in from Olof Mellberg – he'd previously been taunting the Blues in the papers for saying he couldn't name any Birmingham players.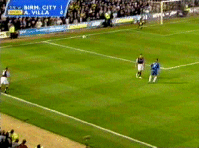 The throw-in is simple enough back to goal.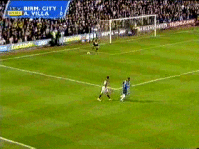 No pressure, it's now just Enckleman, the ball, and the goal.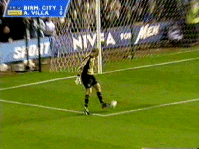 The ball scrapes the bottom of Enckleman's foot – uh-uh – only one way the ball can go now!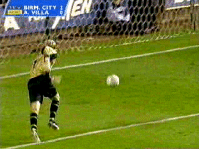 Will he get there in time?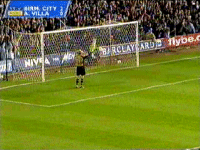 I don't think so!!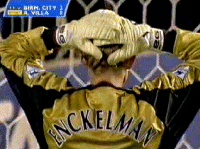 What a mistake!!

Treat yourself to this magnificant piece of goalkeeping by downloading The Complete Video. You might want to Right Click and do a "Save As" to save it on your computer somewhere, since it's a 4MB download (also, the video may get stuck after a few seconds if you don't download it locally first). Worth every byte though!
Keep right on!!!