Following up from hit 'Love Me More', Ultrasun have just released 'We Can Runaway'. Reinforcing their status as a formidable new dance act, there is no denying the duo's straight-out pop appeal, this release a fine example of Ultrasun's musical breadth.
The Radio Edit unites organic vocals and the vibrant combination of trance and pop elements, reinforcing their position as an outfit that has all the promise of your European trance acts, with the accessibility to court mainstream charts.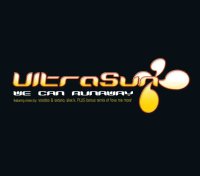 Christos' Radio Edit beefs up the track a little, bringing in a bigger trance feel and a bit more tempo, a sound just as at home over the airwaves as it is over a big club sound system. Christos' Club Mix is a little more progressive, with intensity building steadily throughout and atmospheric synth sweeps here and there to round out the track. The Voodoo and Serano Mix has a tougher start, complimented by an emphasis on melody, with added arpeggios and a reverb to the vocals that keep the track well in uplifting trance territory; an excellent number for a main-floor warm-up.
Our own Alex K puts a little more clout into the track. Slightly harder and faster, chords are stripped back with more emphasis on beats and bass. The melody is given a higher energy trance reworking, offset well against unmanipulated vocals. And last but definitely not least, the Acoustic Mix. Every dance release should include an unplugged version, just to prove its foundations in genuine songwriting. Katie plays the guitar and before you can say 'The Sundays' you're transported to Cafe Del Mar.
As an added extra, the single includes a mix of 'Love Me More'. The Sonic State Mix is a breaks version – definitely not what you'd expect from most trance acts. The fundamental trance elements remain, but are warped into a kind of nu-skool trance (is that a genre yet?) until the track plunges into twisted evil breaks halfway through. The vox is darker and subdued in a Kylie 'Confide in Me' way, as is the tempo.
Track listing for the CD is as follows:
1. Radio Edit
2. Christos Club Remix
3. Voodoo and Serano Mix
4. Alex K Mix
5. Southern Shores Acoustic Mix
6. Love Me More – Sonic State Mix
For more information on UltraSun, visit their website at UltraSun.dotDance.com