Last weekend I successfully upgraded by Galaxy S2 to Ice Cream Sandwich, the latest version of the Android Operating System.
The upgrade was OK although I did need the Vodafone Ice Cream Sandwich Forum to get a couple of issues resolved.
Here's the process I followed.  Disclaimer: these worked for me, but I don't guarantee that this work for you.  These instructions are without any kind of warranty.. Always ensure you backup your phone.
Step 1: Backup photos, media, phone numbers and anything else you want from your phone.  For me, I decided I would copy over my music post-install, so I just backed up my photos to a PC using the USB lead.
Step 2: Factory reset your phone: *2767*3855#
Caution: this wipes EVERYTHING on your phone and puts it back to the state when you first had it.  When the reset completes, don't both entering your Google account as we'll be wiping it again post-upgrade.
Step 3: Update KIES.  In fact, what I should really say here is uninstall KIES, reboot your PC and then install the latest version of KIES (available from Samsung GT-I9100L Downloads).
Step 4: Start KIES
Step 5: Attach phone
Step 6: Start upgrade
Note: I encountered the following problem: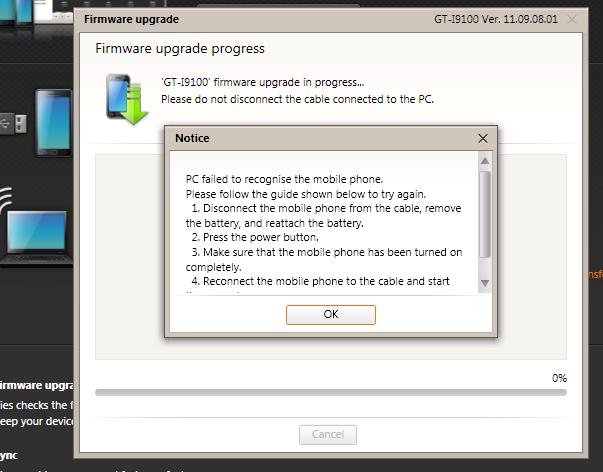 .
This happened after the firmware has been downloaded, the Android man was appearing on the handset with the message "Downloading…do not turn off target". It was sort of as though the handset could not download from the PC.
For me, the solution was to restart KIES, disconnect and reconnected phone. In fact, now that my upgrade is done, I'm wondering if this was down to the fact that I had upgraded KIES using it's "Check For Update" rather than a clean un-install, re-install as mentioned in Step 3.
Step 7: Allow upgrade to complete
Step 8: Perform a Factory reset by dialling *2767*3855#
This was mentioned on the Vodafone forums – apparently KIES/Android may have left some of the older Gingerbread 3.2.5 files around on the phone and this would clear it? In any case, pre-upgrade my phone would stop playing music or podcasts and random times and others had reported that a factory reset would do this. So, cleaning up would mean nothing to lose.
Step 9: Sync your google account. By default most of your Google Play apps will be re-installed, but if you downloaded any apps manually, you may have to apply them again manually. An important tip: Switch off the mobile/cell data network and connect to a WiFi signal while you perform the sync – you will save your data allowance.