Although the standard stereo system installed in the MGTF is adequate, you can make big gains by installing a better quality head unit and replacing the standard speakers. However, for the ultimate in ICE, Richard Meridith shows us how to add a 10″ Pioneer Subwoofer into the boot like this:
::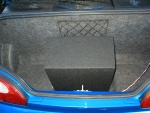 ::
Read on for more details!Richard writes:
I used to have the system in my Rover 200is and it fitted in easier than that did!
The power cable and the amp connecting leeds run down either side of the car to reduce any interference between the two. The size of the
grommets that are fitted under the bonnet are massive and easily allow the power cable through into the inside of the car.
Once inside the cables run easily down the side of the door wells under the carpet. The amp is earthed of one the chassis bolts just under the rear T bar.
Running the speaker cable to the boot was a lot easier than you might think – there are a number of rear grommets in the rear of the car just
under the soft top storage compartment. The cables can run alongside within the bodywork frame and from here the wires can lead straight into the boot fitting neatly just past the bonnet releasing mechanism.
::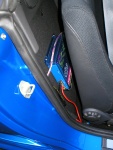 …….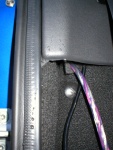 ::
Once inside the boot, the sub box can fit under the bonnet release mechanism and it will hold the sub in place. With subwoofer in this position you can get the best sound quality from because the audio is directed fowarard towards the drivers position.
The sound from the sub is pretty good even though the sound has to pass through the engine compartment – it still gives real body to the bass sound and specially powerful with a none ported box.
::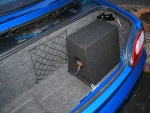 …….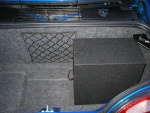 ::
If any body has any questions they can get me on richmeredith645@aol.com
Hopefully Rich and his car will be at the MG Silverstone 2003 event so you can see (and hear!) this for yourselves!